Alright folks!
It's Wednesday! It's the first of the month! Which means of course ...
Well, to a lot of people it means IWSG day, and for my post please go here. I'm not having a good time at the moment, so my IWSG moment is something of a plea for encouragement :-)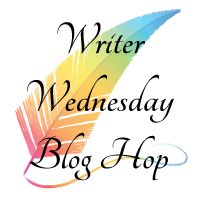 But, besides IWSG, it's also WWBH time. Yay for all the acronyms, hey!
It's exciting today, we get to see who the latest winner is for our featured blog hop author space.
There have also been some slight additions to the rules for this here bloggy hop, so please cast your eye over before submitting your fabulous stories.
Today Leanne is in charge, so here we go!
~~~~~~~~~~~~~~~~~~~~~~~~~~~~~~~~~~~~~~~~~~~~~~~~~~~~~
"I'm so glad I live in a world where there are Octobers." ~L.M. Montgomery, Anne of Green Gables
Welcome to October! I love October for many reasons, but the main reason is because I was born this month--on the 5th to be exact. :)
Today is pretty special in its own right because it's Wednesday AND the first of the month, which means we have an extra reveal for you in addition to a fresh prompt. May I introduce to you our featured blog hop author for October:
Morgan Kellum!
Congratulations, Morgan! Above is her button that you can display on your blog to support her blog. We pick a new winner each month--all you have to do is submit a blog hop story at least four times and your name goes into the hat!
We love encouraging our writers in storytelling and encouraging our community to get to know one another--so be sure to head on over to Morgan's blog to say hi and check out some of her other work!
Next up: Here are the stories birthed from last week's photo prompt. Read 'em and show a little comment love to the authors. They all did a fantastic job!
Okay--real quick, I am going to post the longer detailed version of the blog hop "rules," just as a refresher since we have some new folks joining us. Welcome to our new participants!
1) Use the photo(s) and prompt to write a 500-word story; all elements of the prompt must be a feature in the brief story you create.
2) When 1 photo/5 words is the theme, the 5 words MUST be clearly referenced in your story. Variations on a word are allowed within reason (for example: adding s, ed, ing to the word to be grammatically correct); but creating a new, unrelated, word is not.
3) We ask that you keep your story to approximately 500 words (give or take). We aren't counting but, please, no 1000-word entries.
4) In order to honor the community-purpose of the blog hop, please Do Not share photos and/or prompt words as your own. We ask that you please include the photo(s) and reference the blog hop in your post so your blog audience and the blog hop community may all be connected. Photos are the property of the hostess for the week, unless otherwise mentioned. Thank you so much for understanding! Let us know if you have questions on this. :)
5) Link your story through the blue froggy at bottom by the following Tuesday (direct link to story, not your whole blog, please). If you are unable or need help, contact your hop host:

Leanne,

Debb,

Heather, or Tena.
6)

Have Fun! Take your writing seriously, but let those creative juices flow! Don't fret/panic/pass out/hyperventilate/lose sleep/run in fear over the blog hop, instead let this be an exercise in letting the imagination run wild while staying within the discipline of flash-fiction—short and compelling!
Without further ado; your photo and 5 words for this week:
Mandatory words:
blister
grease
frock
pirate
bishop